Integrated communication solution NIS-INFRA
The NIS-INFRA communication solution combines a wide range of communication technologies on one system and offers custom tailored functions for utilities and infrastructure operators.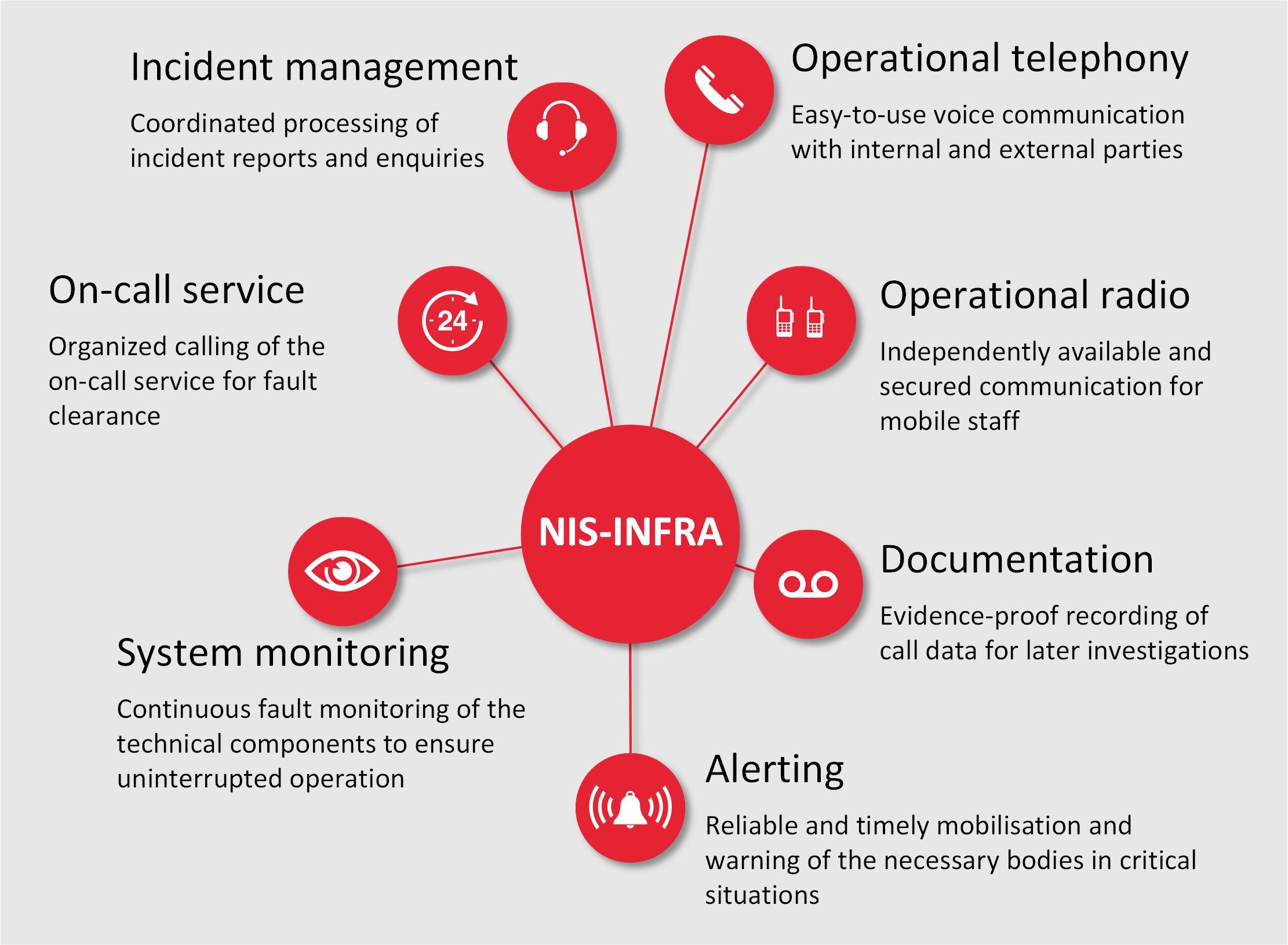 NIS-INFRA offers comprehensive functions for company telephony, fault management as well as for summoning or alerting employees and third parties. The available applications allow close collaboration within geographically distributed teams:
The All-IP solution
All-IP solution with excellent audio quality through the use of latest technologies
The specially designed dispatcher terminals and soft phones allow simple and intuitive operation
Call centre applications such as multi-line call queues, including IVR features, support simplified operation in the event of disruptions
Additional integrated voice applications, e.g. for informing on-call service, to mibilize crisis management teams and issue evacuation alerts
Integrated professional mobile radio dispatch features (for conventional-/digital radio networks: SelCall, MPT-1327, DMR, TETRA, MCX, …)
Integrated public address and voice alarm system
Integrated VoIP soft switch provides comprehensive features and applications including connection to external exchanges and telephony networks
Central configuration, system monitoring and statistical analysis
Open interfaces allow integration with a higher-level NMS (SNMP) or SCADA system (OPC-UA)
Integrated voice recording
Modular architecture
The modular and scalable system architecture of NIS-INFRA allows the use for both simple and highly complex solutions and offers support for deployment of distributed and high available infrastructures.
Tailor-made to your needs
We can put together a communication system that is optimised for your purpose from a wide range of our own components, combined with products from third-party manufacturers, if required.
Project support and customer service
We will advise and support you during all project phases and we will continue to be there for you after the successful transition into operation. Our customer service and the longevity of our products are as important to us as is providing an optimal technical solution that meets all of your requirements.
Telecommunications solution for operators of critical infrastructure
Our NIS-INFRA solution covers all the communication needs of utilities and infrastructure operators.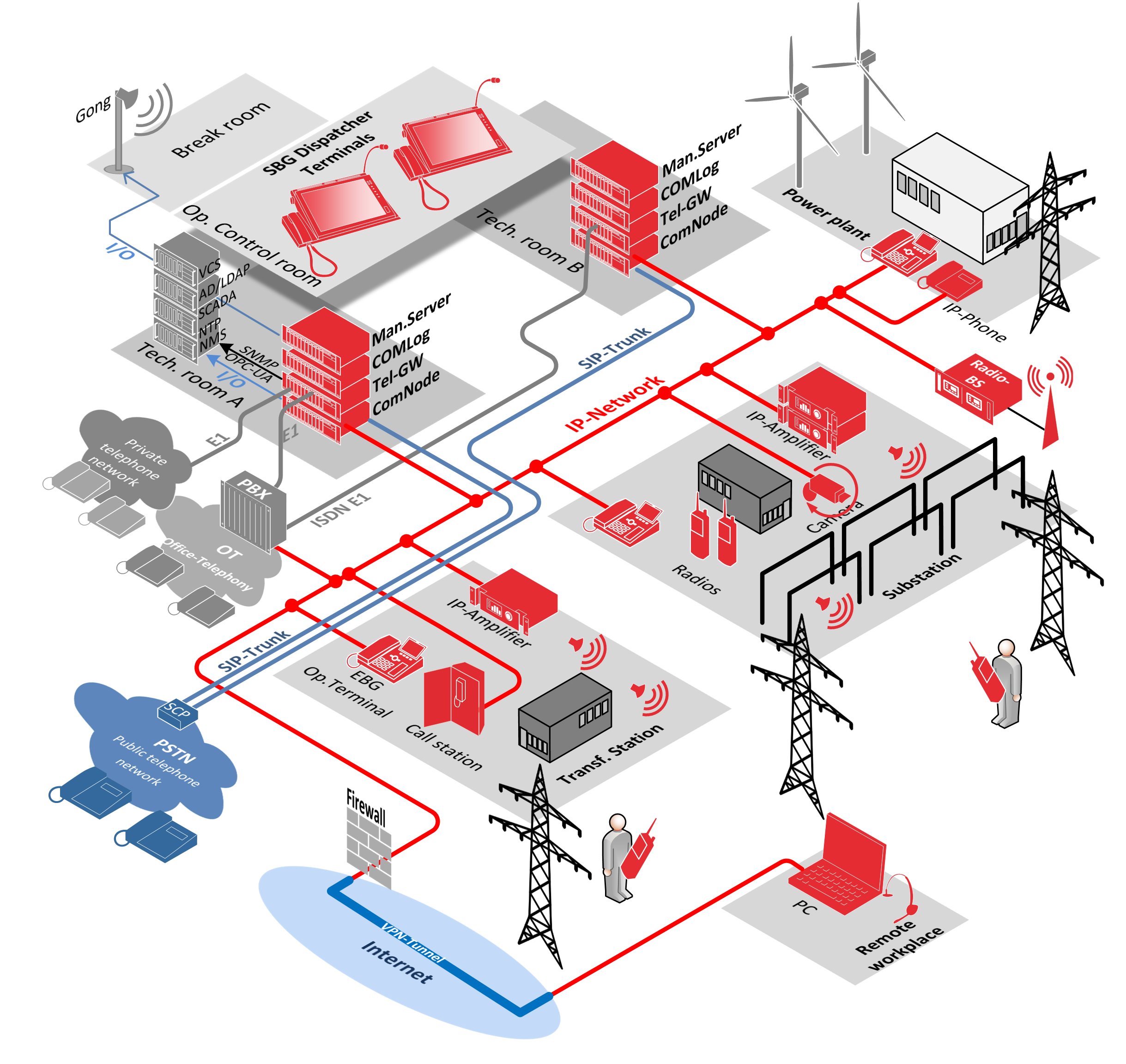 Incident management and operational telecommunication
Beside other features, NIS-INFRA implements the following functions for operational telephony and incident management:
Standard telephony features: call identifier, hold, toggle, forward, three-party conference, call forwarding, pickup, callback on busy, …
Role-based, dynamic call transfer: Calls are transferred to those terminals on which the called role is logged on.
Parallel operation of roles on several operator terminals
Concentrated operation of several roles on one operating terminal
Central subscriber administration and authorisation management
Central and personal telephone book
Multi-party conferences with moderator dialogue (up to 30 participants)
Voice mail
Large call queue with call display sorted by priority, broken down by destination number:

Activatable disruption-event mode: All calls to customer support numbers are routed to integrated IVR system and automatically sorted out.
Detailed call journal
Listen again: Calls are recorded and can be listen again afterwards
On-call service
NIS-INFRA also offers some very helpful functions for an organized calling of the on-call service for troubleshooting:
On-call: Automatic broadcast call to mobilise on-call staff. The assignments are distributed evenly according to definable criteria. At the end of the broadcast call, a progress report is displayed to the person who triggered it.
Pager messages: Predefined pager messages can be instantly sent to service staff via single button click.
Call parking: Calls can be parked and continued at another workplace.
Alert and mobilise
In the event of a major incident or threat, the responsible authorities must be mobilised and informed in a timely manner. For this purpose, customised, automatic alerting scenarios can be predefined on the NIS-INFRA system:
Parallel alarm call: The listed subscribers are called simultaneously/parallel and informed about the event by voice message.
The called subscribers can acknowledge receipt of the voice message via keypad.
The initiator of the alarm call is informed which subscribers have already accepted and acknowledged the call.
Alternative numbers can be stored for the subscribers, which are called in squence in case the subscriber does not acknowledge the call to his main number.
Short messages (SMS)
The operators of the SBG terminals can easily exchange short messages with each other:
Individually composed messages
Predefined (coded) messages from role-specific message set
Stored messages
NIS-INFRA also offers an SMPP interface for connection to the SMSC of a mobile network provider. This allows the exchange of SMS with subscribers on the mobile network.
Operational radio
The NIS-INFRA system can be directly interfaced with analogue or digital radio networks either via IP-compatible radio base stations or via the Telematix media gateway MGV4000.
The Telematix SBG and EBG operator terminals support push-to-talk and have integrated PTT buttons.
Thanks to the integrated radio monitor application, the SBG operator always has an overview of the activities on several radio channels or talk-groups: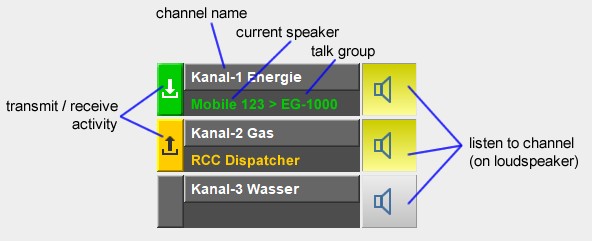 Networking of external sites
Using the Telematix SHDSL call points VICOS-CSS and the SHDSL gateway, outdoor locations, caverns and tunnels that are only wired via 2-wire copper lines can be connected to the NIS-INFRA and thus to the IP network.
The VICOS-CSS call point offers an Ethernet socket for the connection of additional IP devices, for example:
Additional IP call point
SIP telephone
Modbus TCP I/O device
Web-Cam

System monitoring
All active NIS-INFRA components are permanently monitored. Failures can be reported to an external control system and also directly displayed on the SBG terminals.
Monitoring of system components (integrated alarm management)
Monitoring and control of external systems/objects via I/O contacts and SNMP
Interfaces to third party systems
NIS-INFRA provides numerous standard interfaces for integration with third-party systems and the IT infrastructure:
VoIP SIP Trunk for connection to a PBX or to the public telephone network.
SNMP North-Bound interface for integration into a higher-level NMS
OPC-UA Server for integration into a SCADA
LDAP for user authentication
NTP for time synchronisation
CTI and web interfaces for integration of operation/visualisation into a third-party application
Interfaces to CCTV systems to automatically switch the relevant CCTV cameras to monitors in the operations control centre when events occur and to control PTZ cameras.