Fast help thanks to NIS-R
Since the first Swiss motorway was opened in 1964, Telematix has been the supplier of emergency call systems along Swiss A-roads.

Telematix has developed its own solution modules that can be optimally used for applications in the following areas:
Emergency communication and the specific terminals required
Intuitive dispatcher work stations
Monitoring and control of I/O contacts (e.g. in alarm boxes)
PA announcements for information or evacuation purposes
The fully IP-based NIS-R communication system was in many respects developed specifically for use in the road segment and therefore meets the highest demands with respect to sturdiness, availability, transmission distances, audio quality and compliance with standards.
We can put together a communication system that is optimised for your purpose from a wide range of our own components, combined with products from third-party manufacturers, if required.
Depending on the application, we use very different technologies and interfaces. Furthermore, you can combine different communication features in one system (e.g. emergency calls and radio announcements).
Embedded in existing infrastructure
The NIS-R communication solution is highly configurable and can be optimally adapted to the project-specific requirements. Furthermore, the system can be embedded seamlessly in an existing infrastructure by means of various interfaces and gateways (connection to control or monitoring systems, as well as communication and data networks).
We support you
It goes without saying that we will advise and support you during all project phases and that we will continue to be there for you after the successful transition into operation. Our customer service and the longevity of our products are as important to us as is providing an optimal technical solution that meets all of your requirements.

Market solutions for the road
With our NIS-R communication system you can optimally cover all communication needs in the road segment.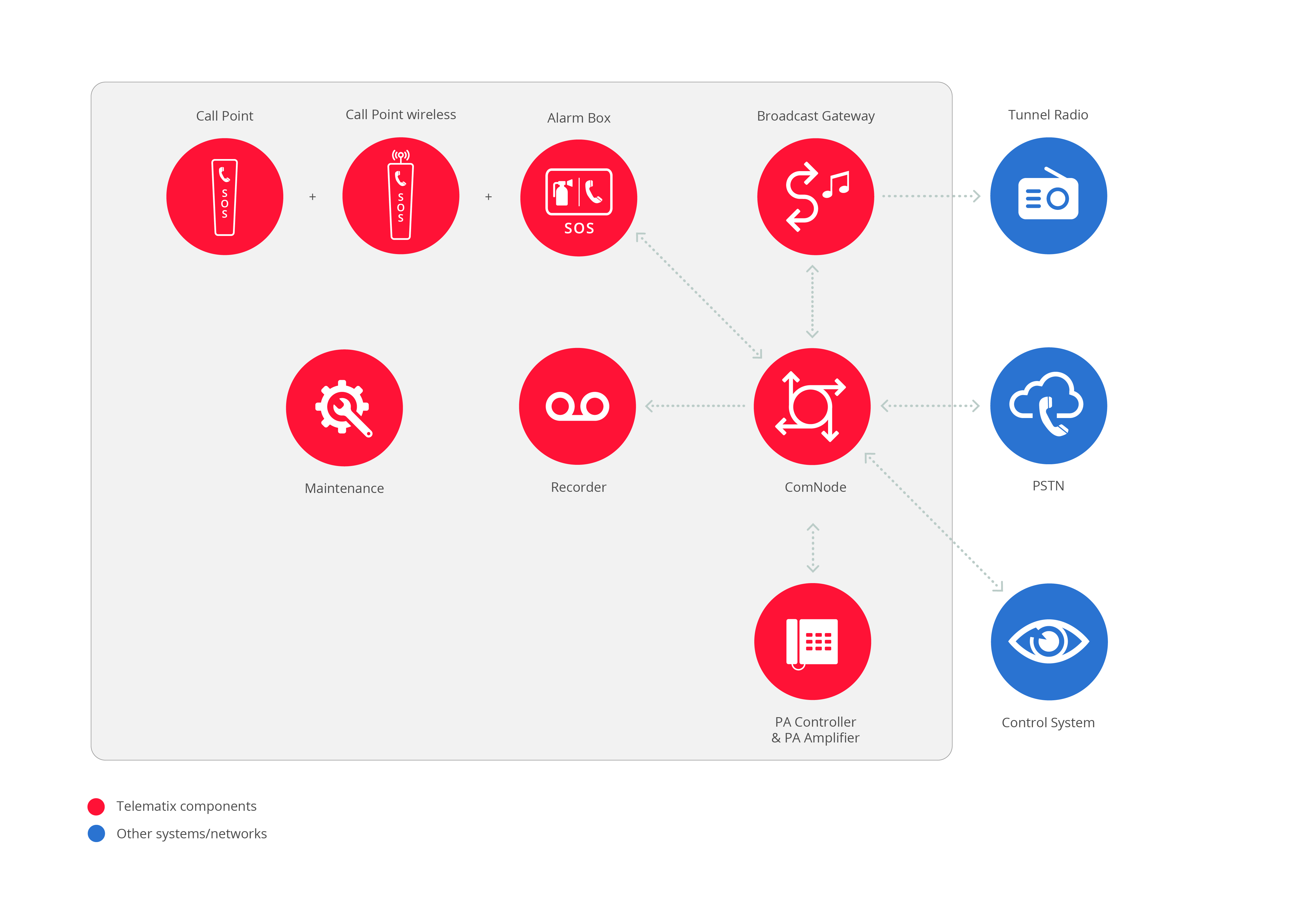 We can offer you tailor-made communication solutions consistent with the respective road topology and existing infrastructure. With the right technology we can keep the installation and operating costs to a minimum.
Communication & emergency call system for road tunnels
NIS-R supports all basic functions required in road tunnels that are vital for an emergency call system:
Emergency call points in all recesses (frequently integrated into alarm boxes) for calling the emergency call centre in case of a breakdown or other event.
Alarm box monitoring (project-specific: recess door, removal of fire extinguisher, failure of voltage monitoring, lighting control)
Transmit alarm messages to the control system (in the case of an emergency or if the fire extinguisher is removed). As a result, a number of lanes or the entire tunnel are closed off (via a light signal system) or at minimum, warning signals both in and in front of the tunnel start to flash.
In addition to these basic functions, the NIS-R communication system provides components and functions for informing motorists of events in the road tunnel:
MGV4000 gateway to feed audio messages into an existing tunnel radio system. The messages are then transmitted via VHF and DAB+ in the tunnel and received by the car radios of the motorists.
Audio server function for NIS-R centre, providing the following options:

Put together audio messages from audio fragments (studio recordings), which can be uploaded to the system
Record audio messages from SBG operating terminals
Transmit time-controlled audio messages to specific zones via the MGV4000 gateway with a defined number of repetitions

You can make live announcements in the tunnel from an SBG operating terminal or phone by means of NIS-R (via MGV4000 gateway and VHF/DAB+ tunnel radio system)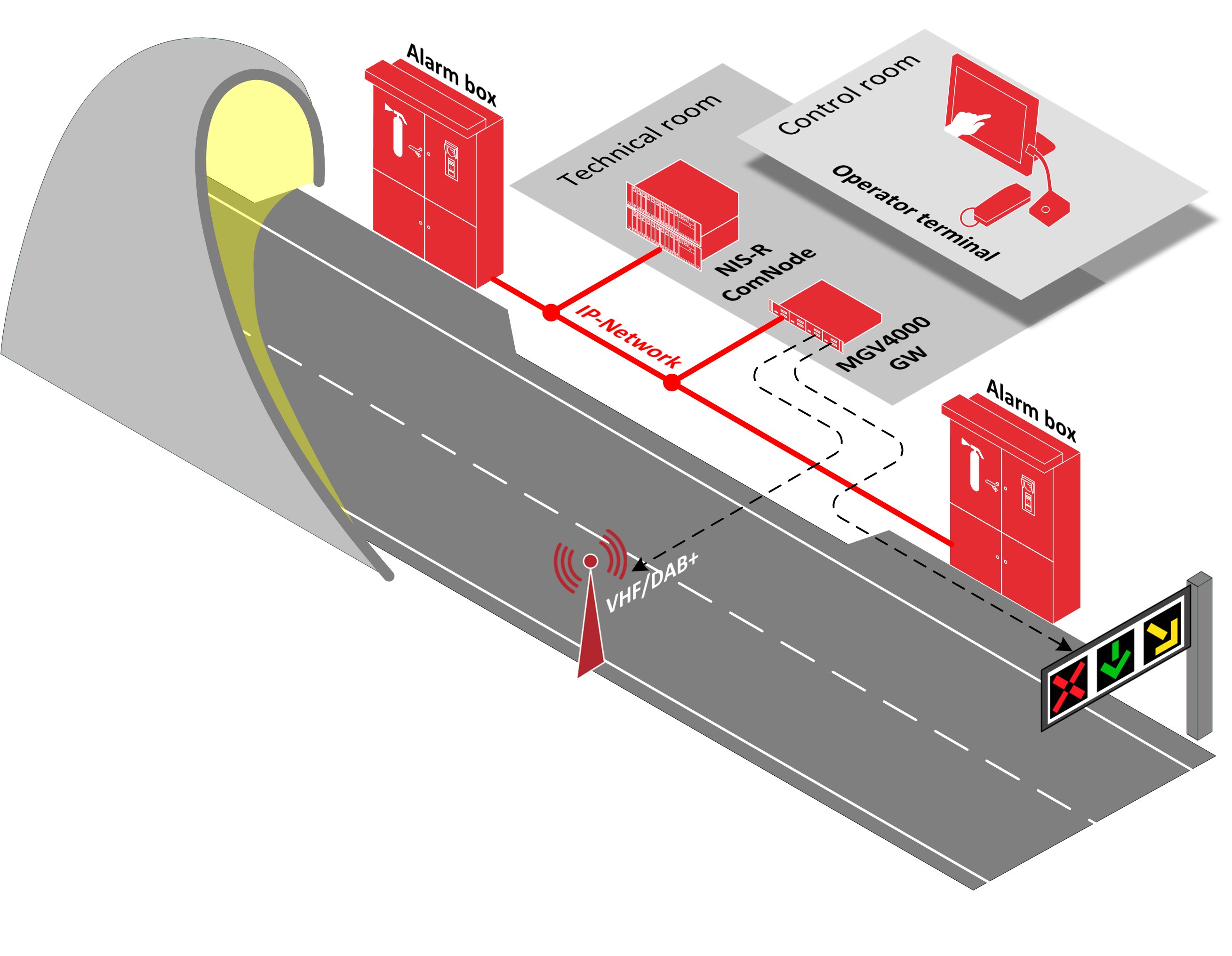 As road tunnels generally have both a power supply and a data network in place, you can use VoIP call points (Voice over IP) here.
Our VICOS-CSL VoIP call point provides either 100 baseT Ethernet connections (copper) with PoE (Power over Ethernet) option, or fibre-optic connections.
If no IP network for the transmission of emergency calls is available in the tunnel, the SHDSL-based VICOS-CSS call point electronics can be used, which can be connected by means of simple two-wire copper cables. When using VICOS-CSS call points, Telematix's SHDSL gateway must be installed in the control centre, which has between 4 and 52 SHDSL connections depending on the design (line termination unit).
A ring topology can be implemented using both VICOS- and VICOS-CSS call points in order to increase availability in the case of damage to cables (see VICOS-CSL ring topology and VICOS-CSS ring topology).
Solutions for sections of open road
In contrast to road tunnels, in sections of open road there is often no access to a network and continuous power supply for the emergency call system. In addition, the distances between the individual call points as well as between the call points and the emergency call centre are much greater.
Therefore, an NIS-R emergency call system for sections of open road will generally look like this: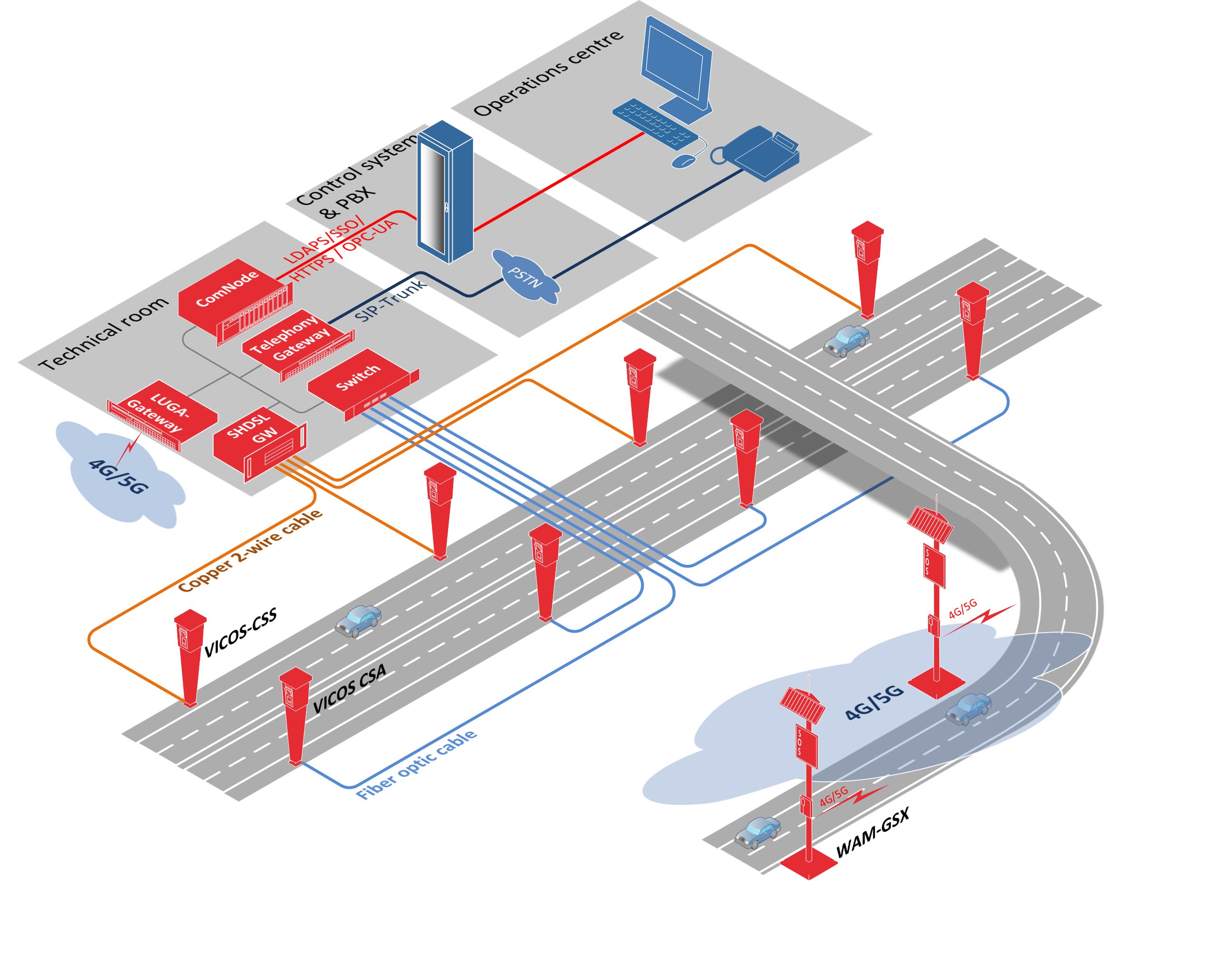 The following electronic SOS telephone systems by Telematix are suitable:
VICOS-CSA with optical network connections: Local power supply or power supply by means of a solar panel and battery; cross-link to the NIS-R centre via fibre-optic cables (distance: up to 20 km, optionally even up to 80km). See also VICOS-CSA solution.
VICOS-CSS, SHDSL call point: Power supply and communication via two-wire copper cables to the SHDSL gateway (distance 5-20 km, depending on the wire diameter). See also VICOS-CSS solution.
WAM-GSX, wireless GSM call point: Local power supply or power supply by means of a solar panel and battery; communication with the NIS-R via the GSM mobile network. See also WAM-GSX solution.
Depending on the call point technology used, SHDSL-GW, a LAN switch with opto-ports and a GSM-GW are installed in the control centre.