PASys simplifies and automates PA announcements
With PASys, Telematix has a modular and highly scalable system at its disposal which allows the implementation of All-IP PA solutions. Thanks to the seamless integration of selected components from our competent partners, we can offer everything from the dispatcher terminal to the PA server up to the IP amplifiers and loudspeakers from a single source.
Our solutions are used both for EN50849-compliant voice alarm systems and for information PA systems for railways. But PASys is also used in other application areas, such as for radio announcements (FM/DAB+) in road tunnels.

Benefits of PASys
All-IP solution, from dispatcher work stations to amplifiers
Scalable to different system sizes thanks to modular desing
Design as a highly available geo-cluster possible
Extensive PA functions for creating, planning and monitoring automatic announcements
Central audio and text library with predefined announcements and announcement fragments in up to 4 languages
Text-to-Speech engine with excellent audio quality and many customization options regarding the pronunciation of local terms
PA dispatcher terminal with intuitive user interface and extensive functions for live announcements as well as for creating and scheduling automatic announcements
If necessary, live announcements can also be made from external devices, e.g. from a mobile phone, if the PASys is connected to the public telephone network
Excellent audio quality due to the use of high-quality components and state-of-the-art technology
Open system interfaces allow seamless integration with existing surrounding systems
Customers value
Solution that can be flexibly adapted to customer requirements
Our excellent know-how to implement a tailor-made and seamless integration into the existing system environment
PASys can be integrated as an add-on into the NIS-R operational telecom solution
Additional benefit of using your existing IP infrastructure thanks to an all-IP solution, which is highly scalable and can be designed fully redundant.
High degree of investment protection due to sophisticated migration concepts and very long product life cycles of the system components used
Minimal maintenance effort thanks to central configuration and monitoring of all components
With our PA components you can cross-link and centralise existing local PA solutions, as well as implement new, state-of-the-art all-IP PA solutions.
Voice alarm solutions according EN50849
With our fully IP-based PA controllers and PA amplifiers, very large-scale PA solutions according to EN 50849 can be realized. The individual system components and the systems are certified according to EN 54.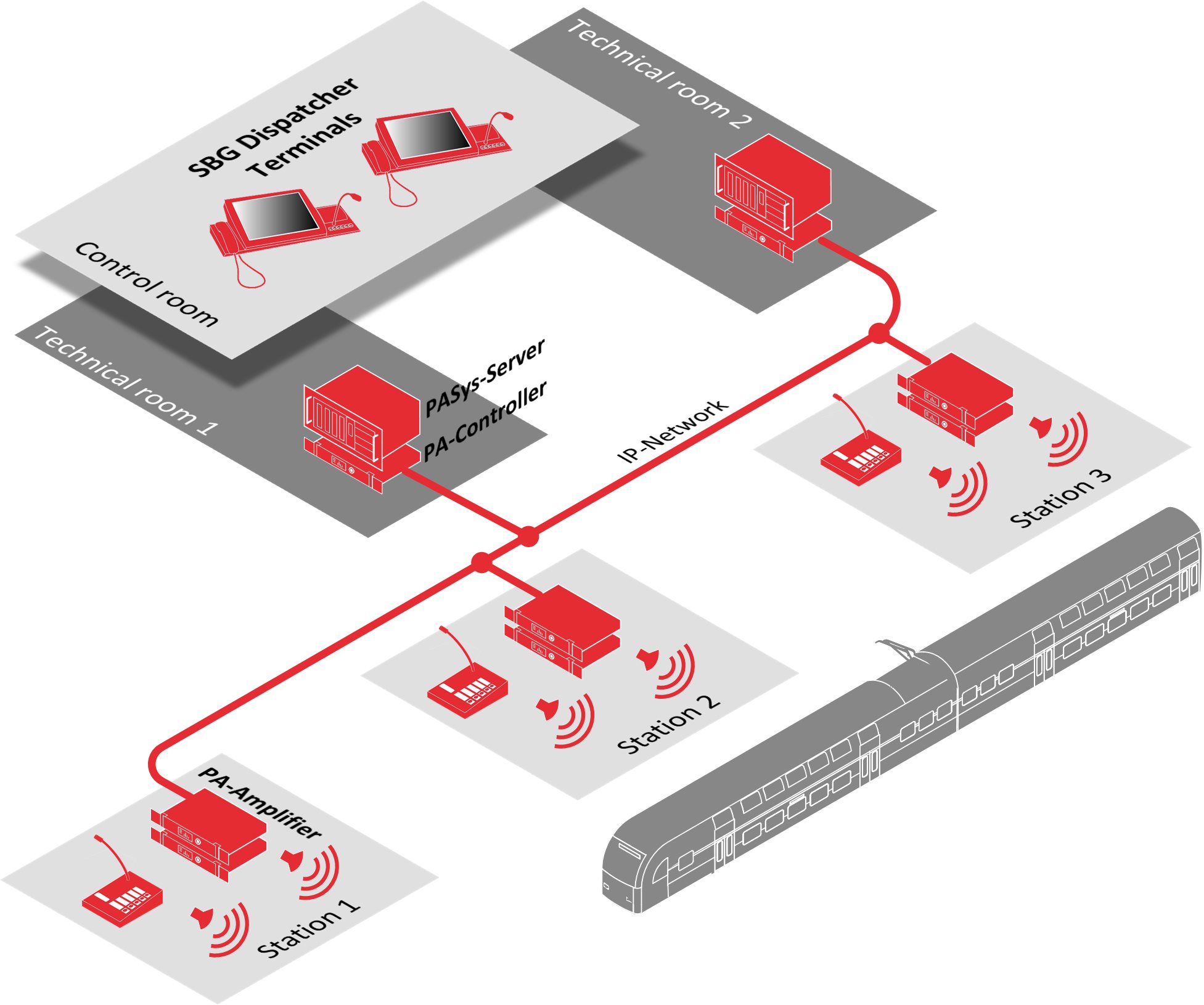 Up to 100 PA amplifiers can be controlled with a single PA controller. Both the amplifiers and the controllers are installed in a redundant design, whereby a single backup amplifier can be used as a fall-back for up to six regular amplifiers.
Cross-linking an existing PA infrastructure
Alternatively to the PA controller solution described above we also offer solutions to make announcements to existing local PA infrastructures, or rather for cross-linking the local PA infrastructures and making remote announcements through the control centre.
The following VoIP products with broadband PA audio outputs are available:
VICOS call point electronics: 1 PA audio output
(as an optional extra, the 60W/100V PA-60 amplifier can be integrated into the call point)
MGV4000 PA gateway with 2, 4, 6 or 8 PA audio outputs, for IP integration of existing PA amplifier systems with analog interfaces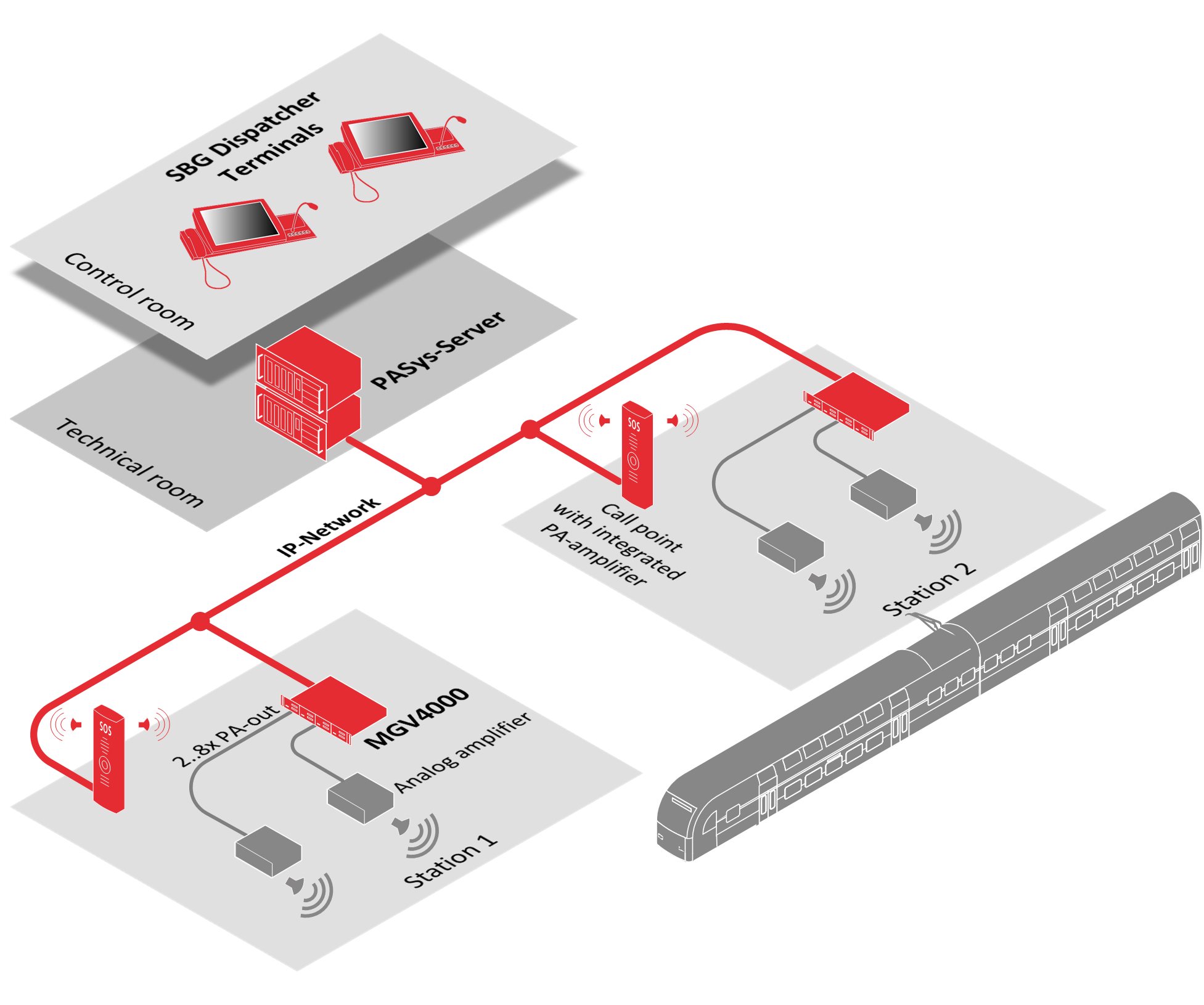 Automatic announcements (DVA function)
The PASys PA server provides extensive, automatic announcement functions (scheduler, announcement library, audio server, text-to-speech engine, audio recorder, blacklist, …). The output of predefined audio sequences or text-to-speech announcemments to specific output destinations is time-controlled. Using the PASys remote control interface based on Web services technology, third-party systems can submit announcement jobs for immediate or scheduled output.
The SBG dispatcher terminal can be used to compile new announcements and plan their output.
The SBG operator can compile any announcement sequence from pre-stored audio fragments in up to 4 languages. He can also record new audio fragments himself or have them generated using a text-to-speech engine and then save them in the library. He can also plan the output times and the number of repetitions to the second.
Planning the output times
The PASys PA server has an integrated scheduler which transfers the stored announcement jobs at the scheduled times for execution.
The planning of the announcement output times is done via intuitive operating screens on the SBG Dispatcher Terminal. Alternatively, the output schedule can also be included in an announcement job which is transferred to the PASys by a third party system via the PASys-Web-services interface.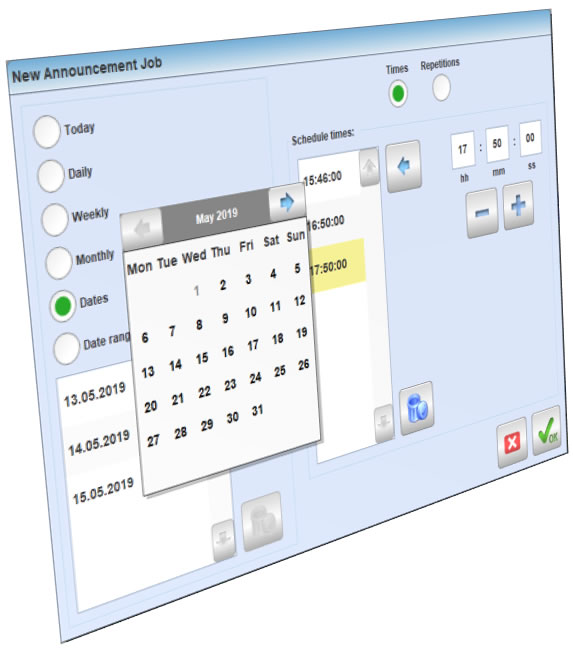 Management and status display of announcement jobs
The SBG Dispatcher Terminal displays the status of all current and completed announcement jobs in different views:
Job status: Displays all active jobs in a list and allows you to stop, change, start and delete individual jobs.
Line mirror: Display of PA jobs per output zone in chronological order (e.g. per station of a subway line). For each zone you can see in real time whether an announcement is currently in progress.
Announcement report: In this view, the success/failure of each individual announcement output as well as all manipulations are shown.
Live announcements
The SBG operating terminal provides the dispatcher with very intuitive and convenient operating functions for live announcements.
The touch screen user interface provides the dispatcher with a graphical overview of the announcement zones and allows the selection of any zones. An announcement to the selected destinations is started by pressing a single button. An optional attention signal (gong) can be played.
The audio signal is transmitted broadband over all transmission paths and output to the announcement amplifiers in first-class quality.
The microphone is muted until the operator presses the talk button to prevent the output of disturbing ambient noise.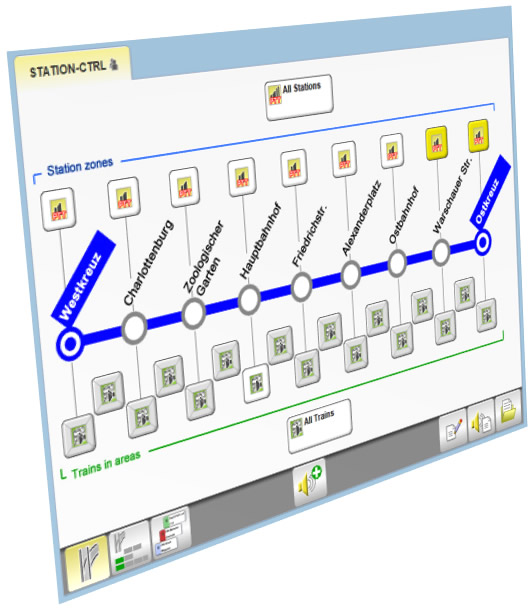 VHF/ DAB+ announcements in tunnels
With the MGV4000 PA gateway, tunnel radio systems can be networked via the IP network and coupled to a PASys server. This allows an SBG operator to broadcast directly to the FM/DAB+ radio frequencies in the tunnels to inform drivers of important events. The PASys services can be used to schedule the periodic output of predefined, multilingual messages to drivers in tunnels.
Through listen-back channels, the dispatcher can also monitor to what is currently being broadcast in a tunnel on certain radio frequencies.
Redundant PASys server
By operating the central PASys PA server in a georedundant cluster, the availability can be significantly increased.
PASys Web-Service API
Via the Web Service Application Interface (PASys WS-API), other applications or systems can use all the services of PASys. This interface can be used, for example, by a customer information system to transfer announcement jobs to the PASys (output destinations, output times, audio files or text for the text-to-speech engine).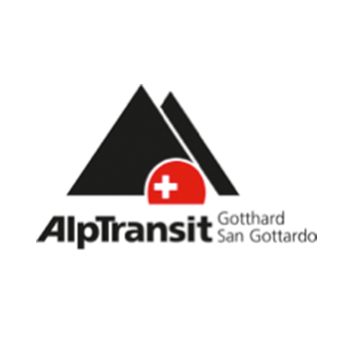 Telematix supplied the communication infrastructure for the Gotthard Base Tunnel, which safeguards communication with the passengers in emergencies. The system provided by Telematix is comprised of a central operational communication solution, 420 tunnel emergency call points and an integrated voice recording system.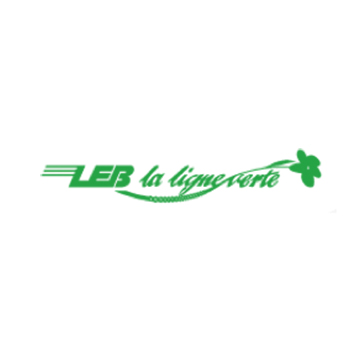 All SOS telephones on the LEB platforms were equipped with state-of-the-art call point electronics and connected by means of fibre optic cables. In addition, the SOS telephones were supplemented with a local amplifier, which can broadcast announcements to up to four loudspeakers. The amplifiers can be controlled either individually or in groups from the central operating panel.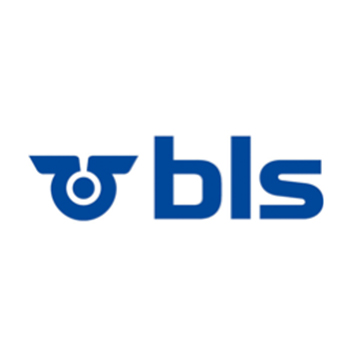 The existing fixed PA system of BLS AG was implemented using Telematix equipment and is now being modernised and successively upgraded to state-of-the-art technology (IP amplifiers). By using Telematix IP amplifiers, a fully integrated solution is implemented that uses the IP protocol as a mutual basis.