Secure and reliable communication
NIS-R as a communication platform is used globally 24/7 and, due to communicating across different technologies, facilitates the smooth operation of numerous metros.
Telematix has developed specific solution modules that can be used optionally for applications in the following areas:

Operational telecommunication including additional radio functions
Intuitive dispatcher work stations
Emergency communication and the special terminals required, as well as the connection of video systems to control the cameras
Monitoring and control of I/O contacts
PA announcements for information or evacuation purposes
Customer information via displays
The NIS-R communication system was in many respects developed specifically for use in the metro segment and therefore meets the highest demands with respect to sturdiness, availability and compliance with standards.
We can put together a communication system that is optimised for your purpose from a wide range of our own components, combined with products from third-party manufacturers, if required.
Depending on the application, completely different technologies are used and various communication functions can be combined within one system (e.g. emergency calls and PA system).
The NIS-R communication solution is highly configurable and can be optimally adapted to the project-specific requirements. Furthermore, the system can be embedded seamlessly in an existing infrastructure by means of various interfaces and gateways (connection to control or monitoring systems, as well as communication and data networks).
It goes without saying that we will advise and support you during all project phases and that we will continue to be there for you after the successful transition into operation. Our customer service and the longevity of our products are as important to us as is providing an optimal technical solution that meets all of your requirements.
Market solution for metros
On the basis of our NIS-R IP-based communication system, all communication requirements for local public transport such as underground and suburban railways can be met.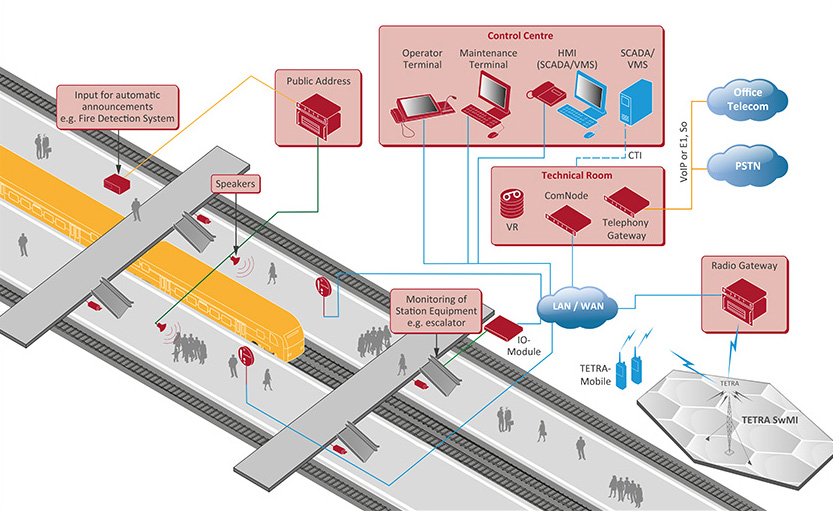 Operational communication, PA and emergency call system
NIS-R provides the following basic functions, which are required of a communication system in the metro segment:
Operational communication between the control centre, station and train staff, as well as with the public and administrative telephone network
Electronic PA systems for automated and manual public address announcements for railway stations, metro stations and lines
Use of the PA system as voice alarm systems in accordance with EN 54-16
Emergency call and information call points for stations, platforms and depots
Dispatcher solution with interfaces to analogue and digital radio systems
Control and monitor third-party systems (e.g. escalators, lifts and doors)
Integration in higher-level control systems
Transmit alarm messages to the control system (in the case of an emergency call or detected event).